Camp Application 2021 • Printable Authorization • Map to Gym
Individual Camp Information
Grades 3-8: June 14-15, June 21-22 and June 28-29 2021
Grades 9-12: June 24-25, 2021
Camp instructors have top high school or college credentials and the player to instructor ratio is 12:1. Instruction stresses the fundamentals of power volleyball. Instruction is designed to smooth out problem areas on an individual basis, and these camps are designed for the serious volleyball player. It is important to be in condition and willing to work hard. Lodging information is available on request and camp t-shirts will be available. If several members of your school plan to attend the same camp, please send your applications in as close together as possible to help ensure attendance at the same camp or call to reserve spots for the group.
Individual Camps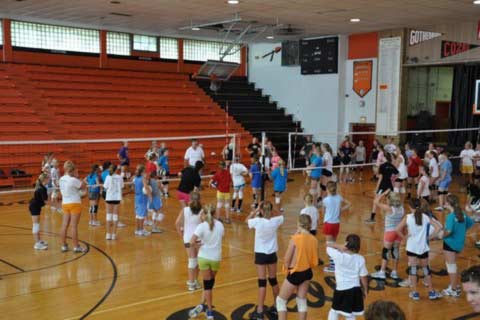 Grade Levels 3-8
Cost: $65.00
Hours: 9 - 11:30 a.m. & 1 - 3:30 p.m.
June 14-15
June 21-22
June 28-29
Grade Levels 9-12
Cost: $75.00
Hours: 8:00 a.m. - 12:00 p.m. & 1:00 p.m. - 3:30 p.m.
June 24-25
Please print the camp application and return to Coach Morgan (mailing address is on the camp application).